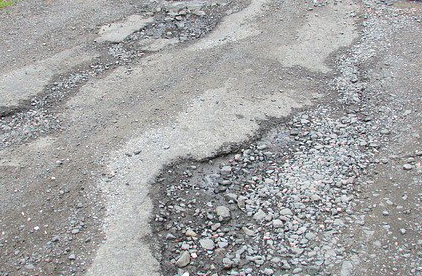 A Hereford resident is calling on Herefordshire Council to resurface some of the city's most used roads.
Mark Giles says he regularly reports potholes and problems with the street scene to the council.
But he fears the system used by highways contractor Balfour Beatty leads to some potholes being left unfixed.
Mr Giles said that after reporting the potholes, they are inspected and marked with a white paint.
However, those potholes that aren't marked when inspected do not get filled in.
"I know that Balfour Beatty have guidelines to follow, but isn't there room for some discretion and common-sense along the way?
"I consider that there are many major flaws on Hafod Road, and also Eign Road; priority roads which are supposedly being inspected monthly, and being passed as fit, yet I continually report and photograph serious problems at these locations, which then, and only then, get marked-up in white paint.
"Quite frankly, Hafod Road, and also the B4224, from the Brewers Arms to the St Owen Street junction, need resurfacing as a priority."
A Herefordshire Council spokesperson said they respond to safety critical issues on the road network 24 hours a day, 7 days a week.
"All A and B roads in the county are inspected every month and work is prioritised to ensure that the most dangerous defects are made safe and fixed as quickly as possible," he said.
"Balfour Beatty Living Places, our Public Realm partner, fixed more than 32,000 pot holes in Herefordshire last year.
"We take reports of pot holes very seriously and ask that the public report details of any pot holes on 01432 261800 if urgent or via the report-it pages on the council's website."