Gregg Upwards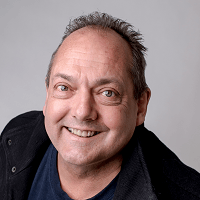 Gregg Upwards. He's a riddle, wrapped in an enigma, wrapped up in his own little world - but that's fine - it's one you definitely want to be a part of...
Gregg is always in trouble with the boss about things that he has said on the radio! Thankfully he always manages to get away with it! We don't know how either! The same can be said for every radio station that he has worked for in a career that started in the early 1980's hosting the breakfast show that only broadcast to factory's. The problem Gregg soon found out was his listeners in the factories could only ever hear him when the machines broke down!
Gregg's big break into commercial radio took a further 9 years after he first started broadcasting to people who couldn't hear him. He landed the Graveyard Shift (Weekends 3am-6am) on Severn Sound in Gloucestershire. Once again most people couldn't hear him because at that time in the morning most people were fast asleep!!
Thankfully 4 months after starting the Graveyard shift the position of Breakfast Show host was up for grabs and Gregg somehow landed the gig and stayed there until 2002 before heading to TFM (Middlesborough) to host the late show ... again.
4 months later he ended up on The Breakfast, surprise, surprise! Gregg left TFM two years later to work for Army Radio and was then head hunted to be a cover presenter on Metro Radio (North East) followed by Real Radio Yorkshire and then took himself to Ireland to work for another 4 years.
By this time Gregg was more and more homesick, so when a chance of moving back to Cheltenham to host The Drive Show on TotalStar and also produce the former Radio One presenter Mike Read, he almost SWAM from Dublin to Hollyhead!
Five years later Gregg joined Sunshine Radio and the rest is history.
Gregg is different to most presenters, he would rather talk to someone normal on the street then interview a "Celeb" who has only popped in because they want too plug something! So when celebs do come in for a chat, he gives them Gregg's "60 Second Quickfire Questions" ... and then they leave!
SO, we thought we would give Gregg a taste of his own medicine!
The Voice or X Factor?
Not a fan of either.
The Chase or Pointless?
The Chase ( I would like to do beers with The Governess and The Beast has also done Gregg's 60 Second Quickfire Questions)
Chinese or Indian Takeaway?
Indian just wins it
Semi skimmed or Full Fat milk?
Semi
Festival or Arena festival?
Festival
Corrie or Eastenders?
Corrie every time
Ed Sheeran or Adele?
Adeles got the class but Eds got the soul
DVD night in or out on the town?
I always go out, not just out, I go out out.
Fish and Chips or Salad?
Come on now. Fish and Chips. Who gets excited about salad?
Football or Rugby?
Football, heaven knows why because I support Reading FC.
Family Guy or The Simpsons?
Simpsons
Work out in the gym or Couch potato?
I'm allergic to exercise and I love a spud
Suit and Tie or Casual?
Casual, I like to be comfy
Caravan or Camping?
Caravan, camping is too cold and wet plus I have a caravan called Chavavan 1 that I use just for festivals. It's a wreck but I love it!
Pepsi or Coca Cola?
Neither thanks, I'll stick to Herefordshire Champagne!
Apple or Windows?
Windows, Apple is backwards
AND FINALLY
Grand Tour or Top Gear?
Grand Tour, its got Clarkson, May & Hammond Top gear hasn't, saying that it has on Dave though!
Join Gregg every weekday afternoon from 2pm and he'll have all the latest news, chances to win and be completely interactive with you on the text, phone or e-mail.
Get in touch with Gregg below:
Hereford

Light rain shower

High: 15°C | Low: 7°C

Ludlow

Light rain shower

High: 15°C | Low: 8°C

Abergavenny

Light rain shower

High: 15°C | Low: 9°C

Monmouth

Light rain shower

High: 15°C | Low: 9°C