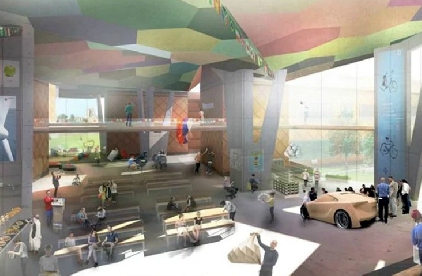 The Marches Local Enterprise Partnership has given Hereford's new university a £5.66m funding boost.
The New Model in Technology and Engineering (NMiTE) submitted a business case to LEP the supporting the development of new learning and teaching facilities.
Leaders of the Marches LEP, the private-sector led company working with the local authorities in Herefordshire, Shropshire and Telford & Wrekin to drive economic growth across the region, decided to release the funds which could lead to three new centres to train the next generation of engineers being built on Hereford's Enterprise Zone.
The £5.66m is the second tranche of a wider funding package secured via the Government's Local Growth Fund by the Marches LEP for NMiTE and is subject to the project achieving a number of targets, including the number of learners enrolled and jobs created.
Mandy Thorn, Chair of the Marches LEP, said the project was strategically important for the region in helping to deliver economic growth.
"The LEP Board met last week and welcomed the NMiTE team, which presented its updated plan to us following the submission of its business case.
"The Board agreed to allocate funds, subject to conditions being met, to go towards the creation of three centres on the Hereford Enterprise Zone for graduate, undergraduate and higher apprenticeship students.
"The Board was encouraged to hear from NMiTE about the significant levels of interest from private sector organisations that will deliver a further £5m investment to bring this project to fruition."
The go-ahead by the LEP Board follows the initial £2.34m deal signed in August which has been used to support the transformation of the former Robert Owen Academy in Blackfriars Street, now known as Blackfriars, for future students to learn practical engineering skills.
NMiTE is aiming to address the shortage of skilled graduate engineers in the region across the advanced manufacturing, agri-engineering, data, defence, resources security, and sustainable/smart living technology sectors.
Professor Elena Rodriguez-Falcon, President and Chief Executive of NMiTE, said: "This is welcome news for NMiTE having received its full support from the Marches LEP of £8 million. Work has already begun at Blackfriars, our first major teaching centre, which is already making a significant difference to meeting our milestone targets. We are looking forward to the new developments at the Enterprise Zone."